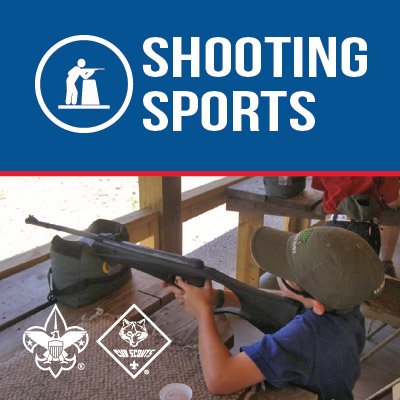 In spite of the age old parental warnings of "No, you can't have a BB gun, you'll put your eye out!", millions of youngsters worldwide have fallen in love with shooting, hunting and eventually with firearms and even wildlife through activities experienced with their first "real gun" the BB gun, which is one of many types of guns referred to as air guns. For a large percentage of today's shooting sports enthusiasts, challenging our early shooting skills against targets that ranged from old bottles and cans, to any available leaf or cardboard box, set the stage for a lifetime of learning responsible behavior and of shooting enjoyment.
Shooting Sports, in general, encompasses exciting, worthwhile activities for boys, and it is one of the most popular program activities held at Cub Scout camps, providing fun and adventure, yet teaching skills, discipline, self-reliance, and sportsmanship. SHOOTING SPORTS WEBSITE
About The Programs:
The program will include some traditional Cub Scouting favorite activities as well as some newly offered activities.

Program areas offered at camp often include fishing, crafts, scout skills, sports,games, and archery.

Day Camps that include archery or other shooting sports teach Scouts safety, skills, and responsibility.

Scouts are then allowed the opportunity to practice what they have learned.

Our shooting sports and waterfront programs are taught by trained instructors and are often the Scout's favorite program areas.
Activities are age appropriate, and designed to include achievements from each of the Tiger Scout (along with their adult partner), Cub Scout (Wolves & Bears), and Webelos increasing challenges throughout their Scouting adventure.
Cub Scout Day Camps Parks:
St. John's Northwestern, Delafield

Menomonee County Park, Menomonee Falls

Muskego County Park, Muskego

Mukwonago County Park, Mukwonago
Camp Rifle programs are among the most popular activities at summer camps where shooting sports are offered. Rifle shooting offers scouts the opportunity to master safe gun handling and marksmanship skills while learning about the exciting Olympic Sport of target shooting. Scouts learn to handle rifles safely and how to fire them accurately at targets while developing valuable life skills that will benefit them as they grow and mature.

At Camp Long Lake we have available both Kimber Model 82 .22 Caliber Match Grade Target Rifles and Savage Model Mark I-FVT .22 Caliber Rifles. The Kimber 82 is used exclusively for Merit Badge shooting.
Shotgun shooting has always been very popular with campers where it has been offered. Camp Long Lake is no exception, scouts have always enjoyed participating in this exciting past time. We are proud to be able to offer Trap, Skeet, and 5 Stand opportunities. The Shotgun Merit Badge at camp and have both left and right handed Remington 11-87, 20 Gauge shotguns available.
SHOOTING SPORTS COMMITTEE MEMBERS
Rory O'Donnell, Program Director & Council Advisor to Shooting Sports Committee.
Bryon Foster, Council Shooting Sports Committee Chair, Certified Gun Smith & Firearms Dealer
Tim Abrahamson, NRA RSO, Rifle & Shot Gun Instructor , BSA BB Gun Instructor & Trainer and is an active member of Troop 5
Michael Baxter, Council Shooting Sports Secretary — Mike is a life-long hunter and devoted scouter, having spent ten years in the scouting program as a volunteer leader. Originally from southern Indiana, Mike recalls many fond memories of hunting small game and deer with his father and the lessons of firearm safety he taught. After moving to Wisconsin in 2002 and as his own sons became old enough to hunt , Mike became an avid supporter of the WDNR Hunter Safety program and has recently joined the Wisconsin House Outdoorsmen Club to support their efforts to bring these classes to young hunters. He is currently a certified BB-Gun shooting instructor for the Potawatomi Area Council, member of BSA Troop 5 and a member of the council's Shooting Sports Committee.
Michael Ward, Council Shooting Sports Archery Instructor — Mike is a Level II National Archery Association (NAA) certified instructor, and has introduced hundreds of adults and youth to the fun sport and past time of Archery. He is a certification instructor for GSWISE, and a current archery program coordinator at Camp Winding River, Eagles Nest, and River Rats. Mike is a member of the National Archery Association/USA Archery, National Alliance for the Development of Archery (NADA), Boy Scouts of America, Potawatomi Area Council - Shooting Sports Committee (Archery), Potawatomi Area Council Training Staff, BSA Troop 63, and Girl Scouts USA. In addition to his Archery responsibilities Mike is also an NRA Range Safety Officer and a NRA Certified Instructor for Pistol, Rifle, and Shotgun.
John Bauer, Council Shooting Sports Member
Paul Hoefle, Council Shooting Sports Member — Paul is an Attorney, an NRA Certified Range Safety Officer and NRA Certified Shotgun Instructor. He has been a Merit Badge Counselor for shotgun and rifle for approximately ten years. He has extensive hunting and shooting experience including all aspects of trap, skeet and sporting clays. Paul owns a Wisconsin licensed game farm and has worked with many young scouts in obtaining not only their merit badges, but their first deer, pheasant, turkey, duck, etc. As far as Scouting goes, he was a Cubmaster for Pack 359 for seven or eight years, and a Den Leader for five years. He was an Assistant Scoutmaster for Troop 67 out of Menomonee Falls for five years. He now serves as the Committee Chairman for Troop 359 located at the Divine Redeemer Lutheran Church and School in Hartland.