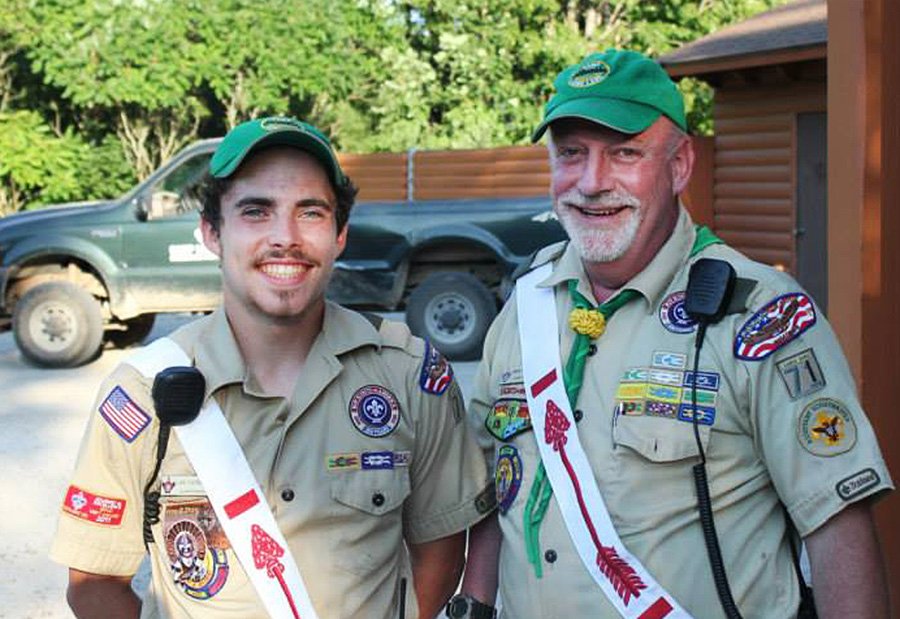 What Makes A Trained Leader?
Today, nearly 1.2 million adults provide leadership and mentoring to Cub Scouts, Boy Scouts, and Venturers. Scouting relies on dedicated volunteers to promote its mission of preparing young people to make ethical and moral choices over their lifetime by instilling in them the values of the Scout Oath and Scout Law.Through the dedication of these many volunteers, the Boy Scouts of America remains the foremost youth program of character development and values-based leadership training in America. And, to adults who are not currently Scout volunteers, we invite you to become a volunteer and share in the positive experiences of the Scouting programs.
A direct contact Scout leader is considered fully trained and entitled to wear the Trained leader emblem when he or she has completed the following training courses and the specific training for the position.
Fast Start Training
Fast Start Training is the first step for all new leaders and should be taken immediately after they register and before they meet with any youth members. New leaders choose the Fast Start they need to take: Cub Scout Leader, Boy Scout Leader, Varsity Scout Leader, or Venturing Crew Leader. All Fast Start courses are available on DVD, or they can be completed through the Online Learning Center. (If you are new to Scouting, you will be asked to create an account.)
Youth Protection Training
Youth Protection Training is required for all leaders who have direct contact with youth. At all times, youth safety is the number one priority. At the same time, adults need to know the rules for keeping themselves safe, too. Comprehensive Youth Protection training teaches all the do's and don'ts of working with youth. The training is offered through the

Online Learning Center

, or it may be taken as part of an district or council training course. Also see our Youth Protection pages (Banner menu above)
This Is Scouting
This Is Scouting is a new online training session that replaces New Leader Essentials. It picks up when Fast Start leaves off with six modules of training: The Mission of Scouting, Programs for All ages, Scouting Is Fun, Scouting in the Community, Keeping Our Youth Safe, and Scouting's Legacy. The training takes about an hour to complete and can be found on Online Learning Center. (If you are new to Scouting, you will be asked to create an account.)
Leader Position Specific Training
Leader Position Specific Training is based on the leader's position. These courses are taught by informed trainers who know how to engage groups and make learning fun. These courses are offered by the district or council as group training, or may be done as small groups or by personal coaching.